From High-End Restaurants to BOADICEA's Superyacht Galley
Introducing Chef Sunny, the renowned chef onboard 77m BOADICEA, available for charter this summer in the Mediterranean with YPI. Join us as we delve into Chef Sunny's captivating culinary journey, where his passion and expertise for creating extraordinary dining experiences shines through.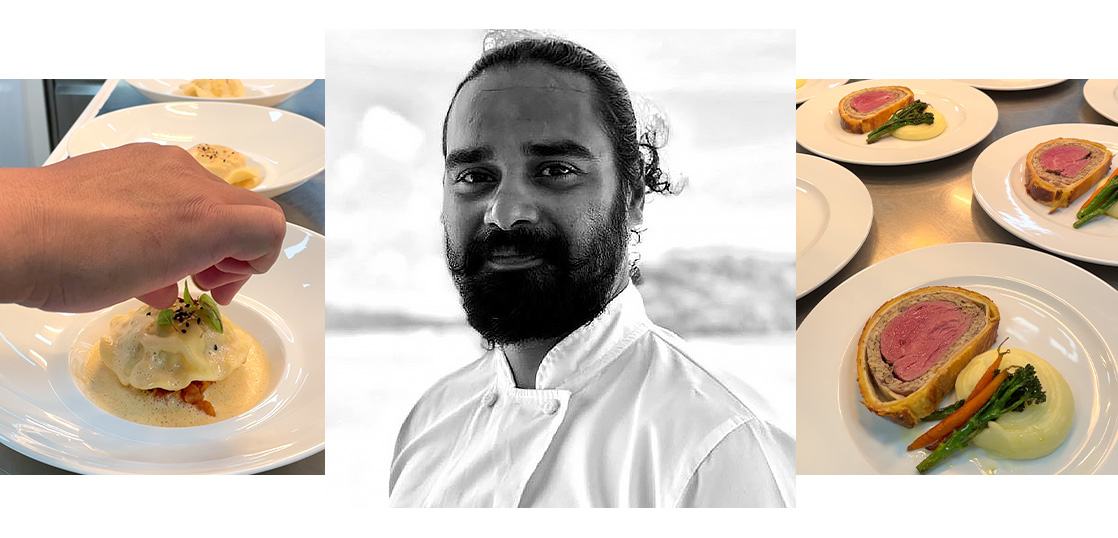 Can you tell us a little about yourself and your background as a chef?
Food has always played a significant role in my family, and at the age of 20, I embarked on a culinary journey to London to pursue my cooking career. I have been fortunate enough to work in some renowned high-end restaurants that prioritise Seasonal ingredients and the best produce available in the market - truly a chef's dream. I had the privilege of spending 6 years working for Gordon Ramsay, specifically at his restaurant in Claridge's hotel. I was responsible for entertaining the chef's table, which was often occupied by celebrities, businessmen, and billionaires. Additionally, I have gained valuable experience through freelancing, catering to events, hotels, private dining experiences, weddings, cooking classes, and even as a private chef for a billionaire.

What motivated you to pursue a career as a superyacht chef?
Interestingly, my entry into the superyacht industry was accidental. One of my friends and former colleague from London, who happened to be a head chef on a superyacht, needed temporary assistance, and I gladly offered my help. After a month, he unexpectedly left, and it seems that I made a lasting impression on the Owners because I was offered his position.

How does the environment and lifestyle differ from working in a traditional restaurant setting?
Working in the yachting industry requires meticulous planning well in advance, often days ahead, due to the frequent presence in remote locations. This is in stark contrast to traditional restaurants, where a simple phone call can swiftly result in the delivery of necessary ingredients within a few hours.

Many chefs have a signature dish that represents their culinary style. Do you have a particular dish that you consider your signature?
Personally, I do not have a specific dish that I consider my signature. In the culinary world, chefs have already explored a wide range of dishes. However, my focus lies in employing the appropriate cooking techniques to bring out the best flavours of each ingredient I work with.

Could you share an anecdote about the best compliment you have ever received from a client while working as a superyacht chef?
Usually, when it comes to serving meals, no news is good news. However, I recently received an exceptionally memorable compliment from a charter guest. They described the tiramisu I prepared as nothing short of orgasmic.

Yacht charters can be highly dynamic, with different locations, cultures, and cuisines to explore. How do you incorporate local flavours and ingredients into your dishes?
When a charter is booked, I make it a point to consider the guests' ethnicity, place of residence, and their food preferences. This initial information allows me to determine the direction for the menu and cuisine. Each morning, before the guests wake up, I visit the local market, specifically seeking out locally grown produce, which I then incorporate into the daily menu.

What is your favourite source for fresh produce while cruising?
Without a doubt, my favourite source for fresh produce is the local market.

Do you cook at home, and what are your favourite dishes?
Honestly, when I have time off, I prefer to stay away from the kitchen and simply relax. However, my friends and family have mastered the art of emotionally blackmailing me, leaving me with no choice but to step back into the kitchen and cook for them.

If you had one hour to cook for us, what would you prepare?
Although it's a common occurrence on a yacht, if given one hour to cook, I would prepare the following:
Starter: Homemade lobster ravioli with lobster bisque and tomato fondue.
Main Course: Braised halibut with roasted girolles and truffle pomme puree.
Dessert: Brioche bread and butter pudding with Valrhona white chocolate mousse.
As the head chef of Boadicea, what unique quality do you bring to the galley and overall charter experience?
My versatile experience, ability to deliver high-end cuisine under short notice, and most importantly, my effective communication with charter guests. By understanding their desires and preferences, I am able to execute and deliver precisely what they have in mind, enhancing their overall charter experience.
Experience Chef Sunny's cuisine onboard BOADICEA, available for a luxurious yacht charter in the Mediterranean this summer. For more information and to inquire about remaining availabilities regarding BOADICEA, please contact at charterfleet@ypiyachts.com or call +33 7 64 78 53 86.